KIOXIA On-Demand Webinar Presentation
UFS in Electronic Designs: Demanding Applications get a Performance Boost
UFS is the premier choice of storage in today's smartphones as it delivers a blazing fast high-speed serial interface for 5G, superb write speeds, low power consumption, and up to one terabyte (TB) of storage in a small form factor. When small storage form factors, large storage densities, fast transfer rates and low power consumption to extend battery life are needed, UFS memory is a good match.  
The newest generation of UFS Ver. 3.1 embedded flash memory devices is here – and they are thinner and faster than their predecessors. KIOXIA has been at the forefront of UFS memory innovation since 2013, when we were the first to sample the technology. Our flash memory solutions enhance the capabilities of the many applications that use UFS – and we're here to deliver good news for a wide range of power and space conscious applications, including IoT and industrial applications.
In this webinar you'll learn how to:
The history of UFS, as well as current market adoption trends
How UFS differs from e-MMC, and the advantages it delivers
The ways that UFS makes a difference in real-life scenarios, including IoT and Industrial applications such as drones and security cameras
Details about KIOXIA's broad lineup of consumer and automotive grade UFS devices
Webinar Presenters

Clayton Huff | KIOXIA Technical Sales Manager | Automotive, OEM, Industrial, IoT

Kevin Hsu | KIOXIA Applications Engineering Manager
Learn and Evaluate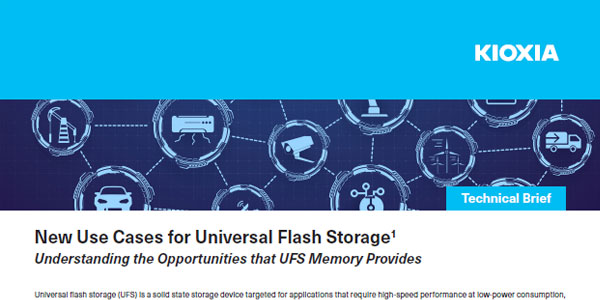 Tech Brief:
New Use Cases for Universal Flash Storage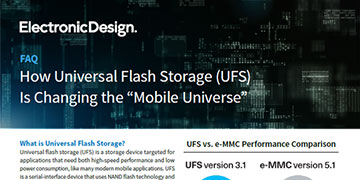 FAQ:
How Universal Flash Storage (UFS) Is Changing the "Mobile Universe"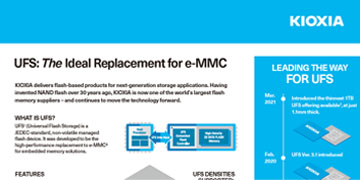 Infographic:
UFS: The Ideal Replacement for e-MMC