KIOXIA On-Demand Webinar Presentation
Improving IoT Data Storage Reliability with KIOXIA's e-MMC Managed Flash Solutions
The IoT market is driven by low cost devices involving sensors, meters, robots, wearable devices and consumer electronic products. e-MMC memory is quite suitable for such applications because of its low cost and ability to act as a replacement for traditional storage media.
The e-MMC standard was developed to simplify application interface design by moving the flash controller interacting with flash memory into the memory itself. The simpler design benefits IoT memory developers by reducing the footprint for memory devices and providing a cost-effective solution.
In this webinar you'll learn how to:
Reduce drive cost and increase endurance with pSLC
Calculate write/erase cycles to estimate lifetime and data retention
Evaluate e-MMC features and options for various IoT applications
Lower cost per bit by switching from NOR to

e-MMC
Webinar Presenters

Clayton Huff | KIOXIA Technical Sales Manager | Automotive, OEM, Industrial, IoT

Kevin Hsu | KIOXIA Applications Engineering Manager
Learn and Evaluate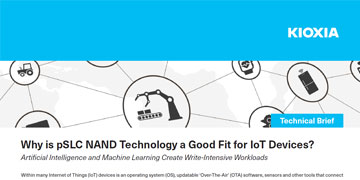 Tech Brief:
Why is pSLC NAND Technology a Good Fit for IoT Devices?

Find a Rep